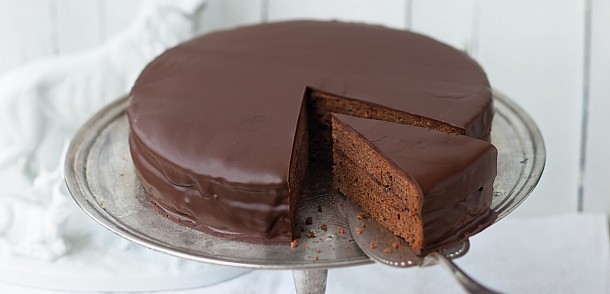 Sacher Torte was the invention of Franz Sacher from Vienna in 1932.This cake is very rich and moist chocolate cake or torte which has apricot jam and melted chocolate for icing.
If somebody tells you that a day in their yearly calendar is dedicated to this cake, would you believe that? In fact, December 5th is even declared as National Sacher Torte Day in Vienna, and this cake is considered as one of the most famous culinary specialities.
However, there has also been a legal tussle over holding the name 'The original sacher torte'. Each time I indulge myself in creating this amazing piece of cake, the baking moments are patiently appreciated by people around.
The recipe I have tried here includes biscuits and grounded almonds and is very different from the traditional Sacher Torte recipe, which uses apricot jam and whipping cream to serve along with it. I have used almonds in this recipe which is rich in magnesium, iron, vitamin and calcium.They are high in calories but are very beneficial to health and is a better choice for kids, as it will help in improving their brain capacity.
Ingredients
150 g Dark chocolate

150 g Unsalted butter

125 g Cane sugar/Caster sugar

1 teaspoon Vanilla essence

5 Egg yolks

5 Egg whites

75 g Grounded Almonds

50g Biscuits (crushed)

50 g Refined Flour

For the icing: Melted chocolate (200 g chocolate and 200 ml double cream)
Instructions
Preheat the oven at 180 c for 10 minutes.Melt the chocolate in a heat proof bowl over a sauce pan in simmering water and keep it aside.
Cream the butter till soft and shiny and sugar little by little. Add melted chocolate to the mixture.Add egg yolks and vanilla essence to the chocolate mixture.
In another bowl, beat egg whites with salt till stiff peak.
Add the egg white mixture and dry ingredients alternatively to the chocolate mixture.
Pour the batter to the prepared tin.Bake it for 45 minutes at 180 c.
For the ganache icing:
In a bowl take 200 g dark chocolate chunks or small pieces.
In a pan pour 200 ml cream and heat untill it is about to boil .Take it off from the heat and pour over chocolate.Stir it thoroughly untill it is smooth .Pour the ganache over the cake
photo credit : austria .info