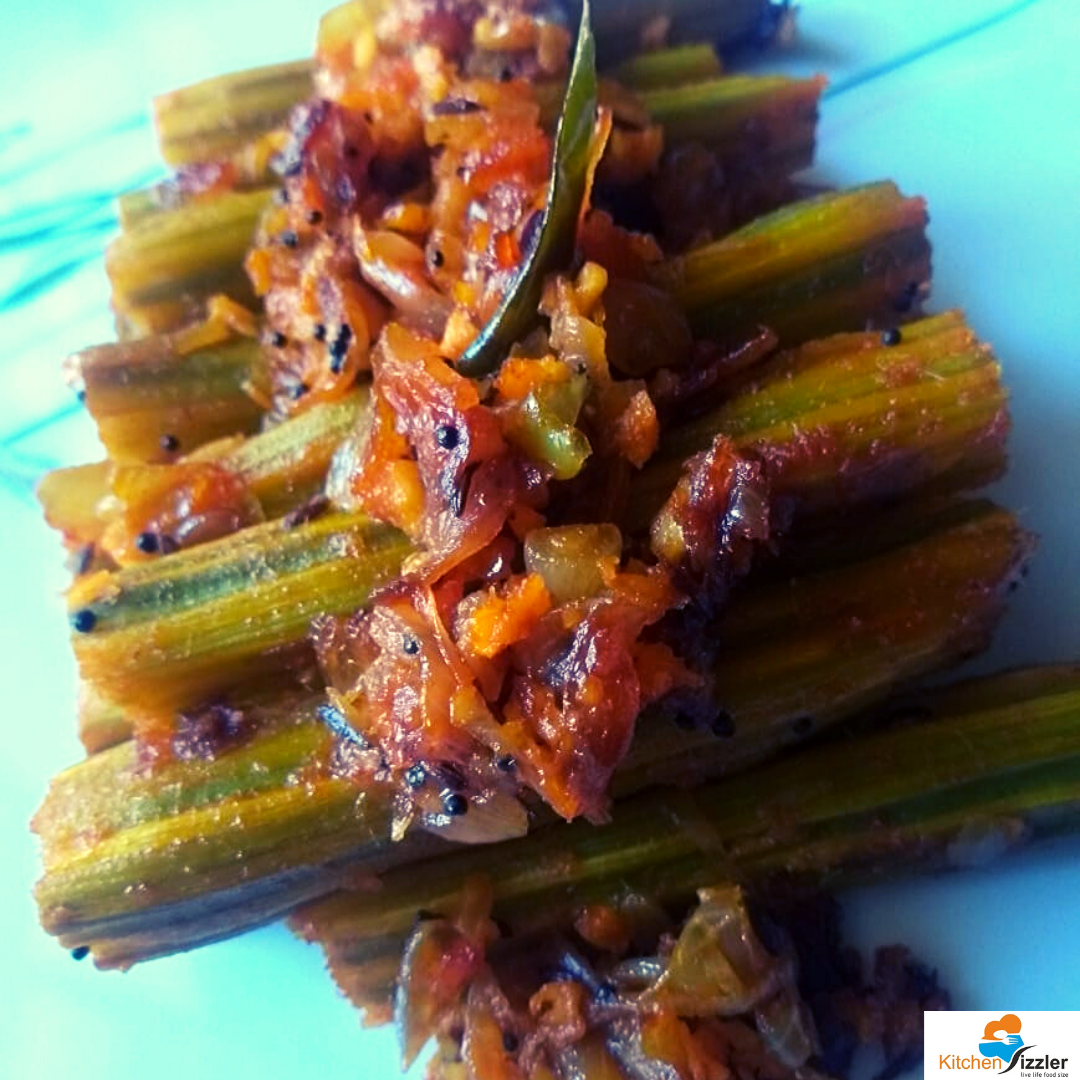 Drumstick Masala/ Shajan ki Sabji/ Murunga kai Poriyal
Drumsticks are the immature seed pods of Moringa Oleifera which is native to tropical and subtropical regions of South Asia. The tree is commonly known as the Moringa tree and the leaves, seeds, and immature seed pods are used in various South Asia cuisines. Drumsticks are often cut into shorter lengths and stewed in curries and soups. The seed pods/fruits even when cooked by boiling, remain particularly high in vitamin C and are also a good source of dietary fiber, calcium, potassium, magnesium, and manganese.
How do we eat them?
Drumsticks are often chewed to extract the juices and nutrients, with the remaining fibrous material discarded as the outer skin is tough and fibrous.
Ingredients
4 Drumsticks ( cleaned /Cut into shorter lengths)

½ cup Small Onions(Chopped)

1 Big Onion(Chopped)

3 Green chillies( medium-sized)

¼ teaspoon Turmeric Powder

¼ teaspoon Cumin seeds

¼ teaspoon Mustard

¾ teaspoon Red chilli Powder

2 tablespoon Grated Coconut

1 sprig Curry leaves

1&1/2 tablespoon Coconut oil/Edible oil of your choice

Salt to taste
Instructions
•Boil the cleaned Drumsticks with 1 and ½ cups of water in a flat vessel with salt and a pinch of turmeric powder for less than 10 minutes in low flame and keep it aside after removing the excess water.
•Take a pan, pour 1 and ½ tablespoon coconut oil .Once the oil is hot, add mustard seeds to crackle and then add cumin seeds and then add curry leaves.
•Add chopped onions( both small and big ) and sauté till golden brown
•Add ¼ tsp of Turmeric powder, green chillis and stir thoroughly in medium flame.
•Add boiled Drumsticks and stir them without breaking them. Add salt to taste. Add Red chilli powder and stir them for 5 minutes in medium flame.
•Add 2 tablespoon of grated coconut and stir them for 2 minutes.
•Delicious Spicy Drumsticks are ready to serve.