Goan Chicken Cafreal with Coriander Chutney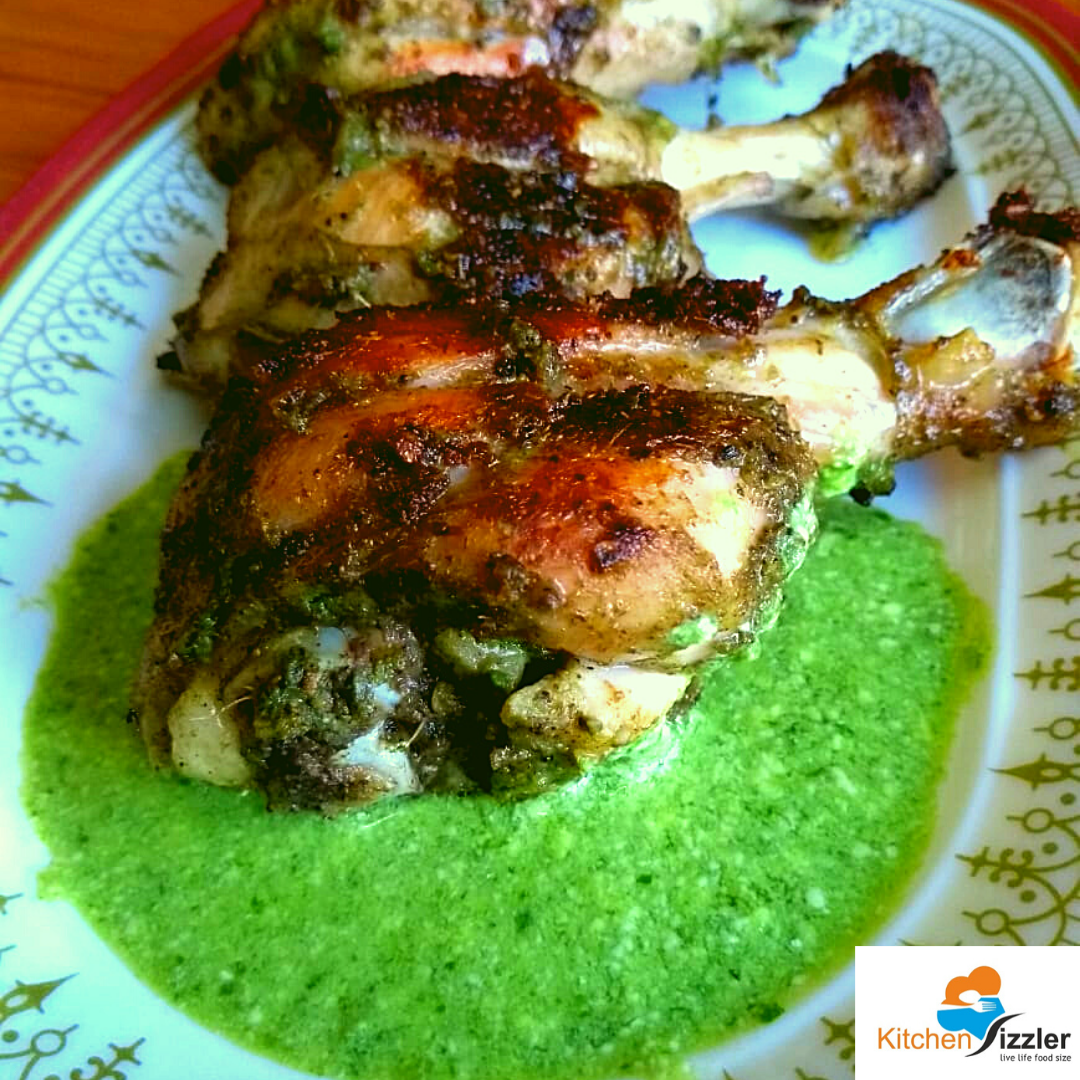 The story of Chicken Cafreal traverses to the period where Indian states were colonized by Portuguese during the 16th century. "Chicken Cafreal" is also called "Galinha Cafreal" where " Galinha " in Portuguese is called chicken or fowl and Cafreal comes from the Portuguese word " Cafre" meaning African Black. This preparation is believed to be originated in African colonies of Portuguese and from there It was made a part of Goan Cusine by African soldiers serving under Portuguese.
So how did I end up making Chicken Cafreal, the story traverses to 10 years back in 2010 when I started exploring my journey of food trying myriad cuisines. When I decided to explore the world of food delicacies the first person to support me in my journey of food trail was my beloved soulmate who gifted me a recipe book "Simply Indian" written by Indian Chef Sanjeev Kapoor. I have made small changes in the recipe to satisfy my palate and I am sure this will never leave your Kitchen menu once you make this Goan Chicken at your home.
Ingredients
500 gms Chicken

Cafreal Paste

6 Garlic Cloves(medium )

1 Inch Ginger

4 Green Chillies(medium)

½ tablespoon Coriander seeds

½ teaspoon Cumin seeds

3 Cloves

4 Green Cardamoms

1 teaspoon Black Peppercorns

½ inch Cinnamon stick

Few sprigs of coriander leaves

Salt to taste

3 tablespoon oil for frying

1 & ½ tablespoon White Vinegar

Coriander Chutney

1 Cup cleaned Coriander leaves

½ inch Ginger

1 long Green Chili

1 cup Curd

Salt to taste
Instructions
Clean the chicken pieces and make deep incisions on the chicken using a knife
Dry roast coriander seeds, cloves, green cardamom, black peppercorns, and cinnamon stick in alow flame in a frying pan
Grind all the roasted spices with ginger, garlic, coriander leaves and green chilies using a little water into a fine paste.
Marinate the chicken with required salt and refrigerate it for at least three hours. For the best results, you can marinate overnight.
In a frying pan, pour 3 tablespoons of edible oil of your choice and once the oil is hot, add the marinated chicken and cook them in the medium after covering them with a lid.
Cook them for 5 minutes and stir them occasionally in order to avoid the burning of chicken,. Turn the chicken and cook them for another 5 minutes.
Add vinegar at this point of cooking and simmer them for two to three minutes.
Note: The cooking time of chicken varies with the size of the chicken pieces and the duration of marination time. The less marination time of chicken will take more time than 15 minutes.
Coriander Chutney
Clean the coriander leaves, ginger, salt, and green chili.
Grind the above ingredients to a fine paste and add the paste to the lightly beaten Curd.