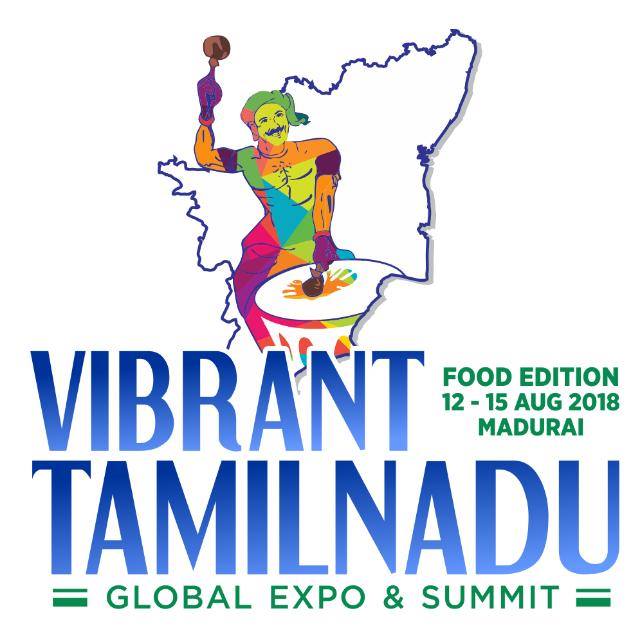 Vibrant Tamilnadu 2018-Food Edition
India is one of the largest producer of agricultural products in the world and second in terms of total food production globally. Indian food processing industry accounts for the 32 % of the country's total food production market, one of the largest industries in India and ranked fifth in terms of production , consumption, exports.The Government of India has allowed 100% FDI through automatic route in food processing and 100% FDI in food retail for food manufactured in India.
The Vibrant Tamilnadu Food Expo and Summit will try to bring all primary players in the food industry which includes farmers, manufacturers,traders,exporters and importers both domestic and international to this platform to explore more opportunities. This expo will throw light on latest technological innovations and developments, recent trends in food processing sector , challenges faced by the food industry, procurement,packaging, logistics, cold chain, cold storage, warehousing, and branding.
Why Tamil nadu ?
Tamil nadu which belongs to the southern part of India is one of the largest producers of agro and horticulture products. Tamil nadu is the largest producer of bananas, second largest in dairy and poultry products and third largest in coffee and tea production.Tamil nadu is one among the leading states in India in rice production, milk production, mangoes, sesame and sugar cane production.
Why this expo ?
The organizers of this B2B expo will ensure further guidance to the participants to achieve their target and to offer support and help for their sustained growth in marketing their products in domestic markets as well as in international markets. Since the food processing industry in India is widely growing this expo will open the door of opportunities for all prime investors and traders.
Organisers of the event ?
The event is organized by Tamilnadu Chamber of Commerce and Industry,Madurai partnering with YES(Young Entrepreneur School) forum and EPC(Export Promotion Centre)forum in association with Tamilnadu Food Grains Marketing Yard, Madurai and Global Network based at Ahmedabad.
When and Where ?
Expo from 12th SUN to 15th WED , AUGUST 2018
Venue: IDA SCUDDER TRADE CENTER, MADURAI – 625018, TAMIL NADU, INDIA
The launch program of the expo will held in 15 centres in Tamilnadu, cities across India and in Foreign countries.
To know more about exhibitors profile,stall layout and registration visit www.vibranttamilnadu.com
Mail –contact @vibranttamilnadu.com