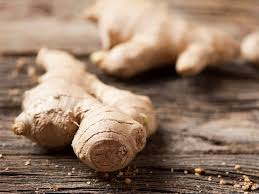 A day without ginger cannot happen even in my wildest dreams, when it comes to sumptuous food. It is one of the spices you can always find in my kitchen pantry, and everyday I make sure i have one cup of tea that has a ginger flavour to it.
Ginger belongs to the family of Zingiberaceae whose underground root (Rhizosome) which is called Ginger Root, used a a spice in many parts of the world . It is closely related to turmeric, galangal (Thai ginger) and cardamom.The zesty taste of ginger comes from two main compounds found in ginger mainly gingerol and shogaol.
Fresh ginger is used in grated, sliced and paste form in the preparation of spicy Indian curries. Ginger in dry powdered form is used in some cuisines as well as for medicinal purposes. Dry ginger powder has to be used in very small quantities as it increases the body heat, if used in higher proportion. The taste of fresh ginger and dry ginger is different as dry ginger is more pungent in taste.
The compound gingerol is responsible for many of its anti-inflammatory and anti-oxidant properties. It is believed that ginger prevents nausea and helps in preventing motion sickness.Ginger contains compounds which act as antispasmodics and relieves menstrual cramps.The gingerols in ginger helps to suppress cold and cough. It also helps in treating indigestion.
Increased consumption of ginger can result in heart burn, an upset stomach and acid reflux.
Ways in which ginger can be used...
Ginger tea: Stir ¼ tea spoon ground ginger and 1 teaspoon honey into 1 cup hot water (Recipe courtesy: spices and herbs by Padma Lakshmi)
Add ½ teaspoon of grated ginger to boiling milk (diluted with water) and tea leaves to make a perfect ginger tea for sore throat.
½ teaspoon of ginger juice with ½ teaspoon of honey will help in digestion.
In paste form, ginger can be added for sautéing, marination of meats and sea food and while preparing curries.
Ginger is available in pickled form, fresh, dry grounded, as a whole and in candied form.
Image coutesy: healthline.com