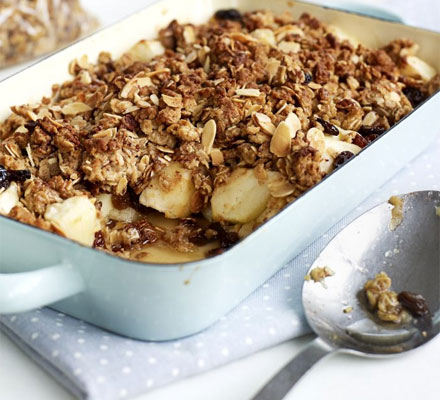 "An apple a day keeps the doctor away" is an old saying which tells us about the benefits of having an apple. In fact its worth can assessed in all walks of life including religion, science and even romance. Interestingly, myths and stories about apples dates back to time immemorial, and it has played an important part in the very existence, starting from the exit of man from heaven to discovering gravity.
Nowadays when u go to purchase a bunch of apples from local fruit market, you doubt whether it is pesticide free or a wax coated one. Moreover, it is not within the reach of everyone to get organic apples. These are very rich in anti oxidants and flavanoids, which secures them a place in the list of nutritious foods.
Apples are considered to work miracles, as it is rich in fiber, low in calories and can be consumed by diabetic people as well. In today's recipe, Apple Oats Crumble, I have used Wheat Flour, Oats and Cane Sugar with butter as topping. I have used Oats to get the crispy texture to the crumble which will be liked by the kids. Oats are high in soluble fibers and helps in lowering the cholesterol levels.
This Apple Crumble Dish is easy to make and will be liked by all especially Children. However it tastes best when consumed warm as the dish loses its crunchiness if consumed cold. Extra sugar can be added to give a sweet punch if necessary. Consumption of apple seeds can be highly harmful as they contain amygdalin that can release a small dose of cyanide. You can improvise the dish by adding strawberries and peaches.
Ingredients
For Fruit Mixture

500gms Apples

2 tablespoon Cane sugar/Brown Sugar

For the Topping

3/4 cup Whole Wheat Flour

1/4 cup Oats

3 tablespoon Butter

2 tablespoon Cane sugar/Brown Sugar

3 tbsp Apple Cider Vinegar
Instructions
Pre-Heat the Oven for 190 degree celsius
For the Topping, rub the butter into the flour until it resembles bread crumbs and add oats, brown sugar and apple cider vinegar to the mixture and continue to rub until mixture sticks together.
Peel the apples and slice them into small wedges and put the apples into a shallow oven proof vessel.
Add 2 tbsp of sugar and 50 ml of water over the apples. Then cover the fruit mixture with the topping and sprinkle it with water. Bake it for 15 minutes and reduce the temperature to 180 degree celcius and bake it for another 15 minutes until it gets crunchy and brown on the top. Serve it hot.
photo credit: bbcgoodfood.com