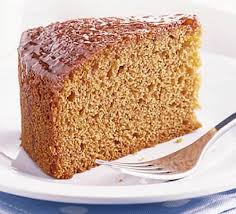 "Life is the flower for which love is the honey" –Victor Hugo
Anything that takes so much of hard work and dedication to make must be really sweet and fruitful. Honey is the result of the hard work done by swarm of bees before it travels to the supermarket and takes another journey to reach our homes.The use of honey is always a debated question which is recommended for weight loss as well as weight gain. Honey contains 64 calories per table spoon when compared to the refined white sugar which contains 48 calories but Honey gets all the attention due to its medicinal properties.Honey is a natural laxative and it helps in soothing stomach ulcers, it is a sweet antiseptic and heals wounds faster and it will clear your sore throats.
For all the efforts bees have taken to store honey we can throw away the guilty quotient before consuming this natural sweetener. Eventhough I like honey cake made with refined flour I have tried to make a eggless wheat honey cake and the baking takes a long time when compared to other cakes but worth a wait. I have used dried figs in the recipe which is source of potassium and calcium and it's fibre content works as natural laxative.
Ingredients
230 gms Whole wheat flour

20 gms Cocoa powder

1 &1/2 teaspoon Baking powder

½ teaspoon Baking soda

½ teaspoon Cinnamon powder

125 gms Butter:

100gms Cane sugar:

125 ml Honey:

250 ml Milk:

4 Chopped figs:
Instructions
Preheat the oven to 185 c and grease a baking tray
Melt the butter and keep it aside
Sieve all the dry ingredients wheat flour,baking powder,baking soda and cinnamon powder
Beat honey,milk and cane sugar .Cut and fold the dry ingredients and mix well.
Whisk in melted butter and chopped figs to the mixture
Pour the batter on to the tray and bake for 1 hour and 15 minutes
Let the cake cool in the tin and relish this piece of honey cake.
Note: Never give honey to children under the age of 1 as it can cause botulism resulting in serious food poisoining.
Photo courtesy: bbcgoodfood.com