Dry Ginger- the miracle spice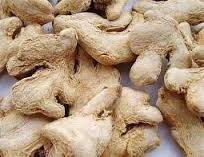 Ginger is a perennial tropical plant supposedly from native Southern Asia and this oldest spice was an integral part of lucrative spice trade. Dry ginger is mature rhizosome, which is very fibrous. It is obtained by drying the fresh ginger for months, that has a long shelf life.
Dry ginger tastes more pungent than the fresh ginger as it contains more gingerol and shaogol, which is responsible for its medicinal properties. Dry ginger is available in small pieces or in ground form but the best way to use is to crush it just before using, while preparing tea or spice mix.The flavour and aroma of dry ginger is pungent depending upon the source it is procured from.
•Dry ginger in India is known by various regional names such as Sonth, Chukku, Shunti and Soonth.
•Dry ginger is believed to increase immunity thereby by protecting body from bacteria if made a part of dietary needs.
•Dry ginger is believed to be anti-inflammatory,anti-flatulent and possesses anti microbial properties.
•Dry ginger increases body heat which is best for treating cold and cough and supposedly helps in reducing cholesterol levels.
•Dried ginger powder is used in baking;It is used in making ginger breads and other desserts like pudding and spiced cakes.
•Dry ginger powder can be used in preparing Punjabi garam masala (spice blend) which will add a unique taste to gravies and spiced curries.
•Dry ginger tea can be prepared by adding ¼ teaspoon dry ginger powder and 1 teaspoon honey to 1 cup of hot water (recipe courtesy : spices and herbs by Padma Lakshmi)
• Recipe for Dry Ginger Tea or Chukku Kaapi for speedy recovery from cold.
Ingredients
Crushed dry ginger: Small piece (2 cm)
Crushed black pepper :1/4 tea spoon
Crushed coriander seeds: ¾ table spoon
Crushed cinnamon: Small piece (1 cm)
Crushed long pepper: 2 pepper corns
Water to boil: 250 ml
Powdered Palm candy: 1 table spoon
Method
• Boil water and add all the ingredients to it. Filter the concoction and add palm candy as required. Divide it into two halves and have one portion in morning after food. Lightly reheat the second portion in evening and drink this tea to relieve yourself from congestion and cold.
• A small piece of Sri Lankan cinnamon can be added to the concoction as it helps in relieving cold.
Image courtesy:amazon.co.uk